Parents share their experiences with the Fox Valley Autism Program.
It's important to us to meet and exceed the expectations of the parents whose children we treat. We do regular surveys and welcome feedback. We are always here to address any concerns you may have about your child's treatment.
Here are just a few of the comments we've received over the years. If you'd like to share your experience with Fox Valley Autism Program, send us an email at: info@foxvalleyautism.com
Here is what other parents say about our program:
"Four years ago, I was faced with the difficult decision as to which autism therapy program to place my two children in. After thorough interviews with three different programs, I chose Dr. Klein's program hands down because they treated my kids' needs with individual attention. Today, with the dedication and teamwork of Dr. Klein and his staff, my son with Asperger's has graduated the program with great success and my daughter with autism is continuing to show excellent progress."
Denise Huebner – Appleton
"I was very impressed with the prompt response I received from Dr. Klein when I initially contacted his office. He always returns my calls personally and answers all my questions. I would recommend his program and his staff highly."
Heidi Scheinert-Waukechon – Bonduel
"We had investigated other programs before signing on with Dr. Klein's program and never regretted the choice we made. Dr. Klein and his team of therapists are honest, caring, top-notch professionals. We'd recommend them and their work to anyone!"
Jon and Jennifer Hasart – Appleton
"We are extremely happy with Dr. Klein's program. The therapists have become part of our family. We would encourage any parents of autistic children to make use of this wonderful program."
Reverend and Mrs. Joel Lillo – Appleton
"We are very happy with the results we have been seeing. It's been a very positive experience."
Linda Kemper – Green Bay
"We are extremely pleased with the steady progress our son has made. The flexibility of the staff has made in-home treatment easy."
Robert and Ann Olson – Little Chute
"The program has really made a difference in Ashlee's behavior and our home life as a family. All of our therapists are just excellent. We have seen a huge difference in her behavior and communication skills."
Terry Thyes – Green Bay
"I never thought my son would ever become the person he is today. It's great that, as a parent, I get to choose which issues are the most important to work on."
Anissa DeBot – Appleton
"The staff is great. They are like part of our family and a good influence on my other children. Our son has greatly improved in the past year and we are optimistic for more improvements in the future."
Debbie Brennan – Appleton
"With the help of everyone on staff, we have made a huge step – potty training. I didn't know if it would ever happen. My son is 10 years old. It is such a wonderful feeling!"
Maxine and Tom Metzner – Green Bay
"This program is the best thing that has ever happened to my son."
Gary Hartjes – Little Chute
"Our 8 year-old son Steven has made extensive progress since we started the in-home behavioral treatment program. All of the staff are excellent and knowledgeable. We would recommend this program to anyone with an autistic child."
William and Mary McPherson – Shiocton
"This program has helped our child a lot. He has made tremendous strides. The staff is very caring and knowledgeable. We love this program."
Dale Raby and Toni Nelson – Green Bay
"It has been and continues to be an honor and privilege to be a part of the Fox Valley Autism Treatment Program. Our son's progress is amazing due to the dedication and care of each member of our team. There is hope!"
Paul and Kim Klomhaus – Greenville
"I highly recommend Dr. Klein's program. My son has made a great deal of progress."
Susan Versecki – Neenah
"We are glad we have this program to help our son with all aspects of his life. The work on social skills development has been the best part of the program. The staff has really made a difference in Jacob's life, and ours."
Carol and Jeff Koller – Appleton
Joe: Living a life his parents thought might never be possible.
Our son Joseph is 12 years old and has been in the Fox Valley Autism Treatment Program for the past 6 years. This program has made such a huge impact in Joey's life and he has made tremendous progress in many areas. The support this program has given Joe and our family has been truly a wonderful experience.
I think back to when Joe first started and how many challenges we faced. It was quite overwhelming to us as parents, but with the help and support of very caring and dedicated therapists, Joe was able to overcome many of those challenges. Joe is doing things that we really thought might never be possible. As parents of a special needs child, we thank God every day for being able to get this help for our son and we hope that all families of an autistic child are able to get the help and support their child desperately needs to be successful.
A special thanks to Dr. Klein, Dr. Eiden, Wayne Neubecker and to all of Joe's therapists for their hard work and dedication.
Thank you!
Ron and Lynn Cops, Joe's parents
Neenah, Wisconsin
Helping Halie emerge from the silence of autism to a voice of hope.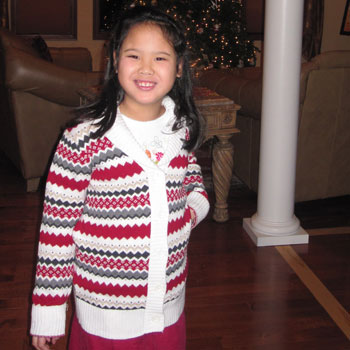 We joined the Fox Valley Autism Treatment Program four years ago for our then non-verbal three year old daughter, Halie, after she was diagnosed with autism. It was a decision that we will never regret.
Functional communication, social skills and academic work are all taught in a manner that our daughter truly enjoys and looks forward to every day. Our exceptionally dedicated senior therapist not only helps us better understand Halie's behavior but teaches us essential skills to handle it properly. She adapts the program to the needs and personality of our daughter. Our senior therapist's adamant belief in Halie's potential has empowered us to a new level of confidence in our daughter's abilities. Halie's communication and academic skills have tremendously improved. The ongoing positive change in our daughter, now 7 years old, has definitely surpassed our expectations.
Our lead, senior and line therapists are a group of sincere, patient, caring and trusted individuals who helped Halie emerge from the silence of autism to a voice of hope. Halie and our family are extremely blessed to be a part of the program.
Wilbur and Marla Sarino, Halie's parents
Menasha, Wisconsin
Junior: He's come so far and continues to make wonderful progress with his autism treatment.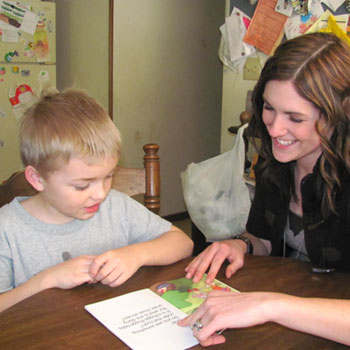 Dr. Klein,
All of the senior and line therapists that have come into our home are so wonderful. Each one of them have different approaches to different things. All of them are caring and friendly. They are respectful and helpful.
When I first got into this program I was not liking the idea of all these people in my home. But I quickly adjusted and now would find it strange not to have them here.
My son Steven has learned so much in so little time. He has come a long way since the day we started. I am so pleased that as I write this, I am crying tears of happiness.
Your program is wonderful. Not everybody gets to have the chance to have a gifted child. And I have got to see how truly gifted and talented my boy is, through your program. I see now that this is not just a disability, but a true gift.
Thank you for helping me overcome the sadness I felt when I was told my son had autism. With the education I learned from staff I was able to turn my sadness into happiness.
I feel each one of my staff members should take the time to applaud themselves for a wonderful job they are doing, because I am thankful every day!
Thank you,
Brenda Anderson, Steven Junior's mom
Appleton, Wisconsin
A note from Junior's Senior Therapist, Stefanie Doszak:
When I first met Junior he was sitting on the floor in his living room rocking back and forth by himself. He was not in school, struggled to attend to tasks, nonverbal with no more than 10 words; none of them functional and he wasn't potty trained. He was very aversive sensory-wise and refused get fingernails clipped, get his hair cut, brush his teeth, touch a wet wash cloth or do various art projects because he was so tactile defensive. When the family wanted to do something festive for Halloween – decorate pumpkins – he would gag even looking at it. Junior had no relationship with his brother and would not allow him to be near him, let alone play with him.
Junior has come such a long way through the consistency of his family and therapy team. He is now toilet trained, has a great sensory diet to address his needs, communicates well using sign and verbals, will play near and sometimes with his brother, goes to school, and is functioning extremely well within his home. He is more willing to do things with his family, complete art projects, and attend to tasks at the table. Last spring while visiting it was so wonderful to see Junior outside playing near and sometimes with his peers – something he never would have done in the past. I have been so proud of what Junior has accomplished through our wonderful team approach. He truly has a great team of people around him and will continue to make wonderful progress.